Esthers gebak uit eigen bakkerij bij Eric's Landwinkel
Wij super trots op onze collega Esther, naast haar werkzaamheden in de winkel bakt zij elke week de lekkerste taarten en gebakjes in haar eigen mini bakkerij. Deze heerlijke lekkernijen zijn op vrijdag, zaterdag en zondag verkrijgbaar.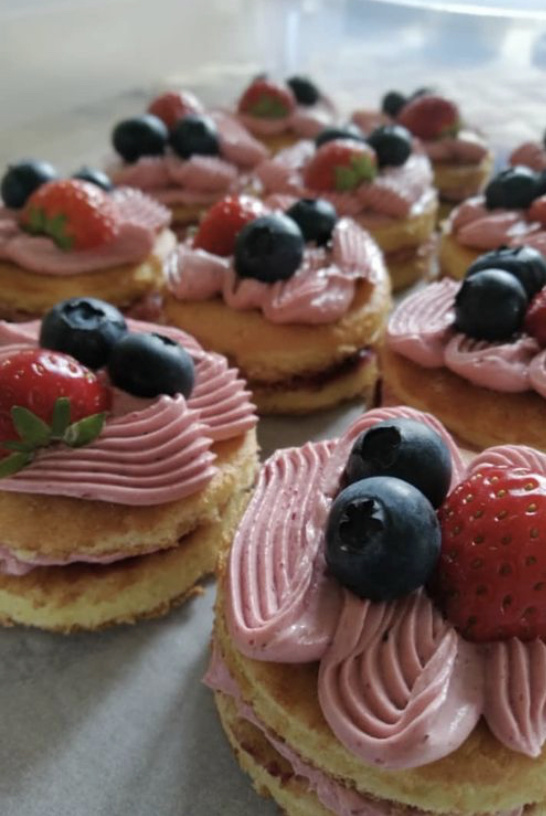 Esther aan het woord;
In mei 2019 begon ik als test met een taart op de vrijdag in de gebakskoeling, hier kwamen al snel veel positieve reacties op en dit smaakte naar meer. Ik kreeg het boek 'Sweet' van Ottolenghi kado en toen was het hek van de dam. Mijn familie kon de hoeveelheid taarten niet meer aan thuis, dus werd mijn doel om de klanten van onze winkel blij te maken met meer keuze in echt lekker gebak, ik kan inmiddels zeggen dat ik dat doel bereikt hebt! Ik maak nu wekelijks vier variaties in gebak, waarvan altijd de helft vegan, gluten of suikervrij. Elke vrijdag maak ik in de winkel de roombotercake, dat ruikt echt zo lekker in de winkel.

Ik bak alles met veel liefde en aandacht en natuurlijk met de biologische ingrediënten uit eigen winkel, als meel gebruik ik altijd 100% spelt meel en demeter eieren.

Speciale verzoeken zijn ook mogelijk, ik bak op bestelling hele taarten of gebakjes, wil je meer informatie? er staat een klapper bij de gebakskoeling met het assortiment met beeld en uitleg.
Liefs Esther